General info
The INOVIM group is a group of companies delivering specific services and products to its target groups to come to a better, cleaner and – above all – low-waste world.
We've divided our mission and vision into an internal and external part. INOVIM wants to be a value-driven organisation. INOVIM opts for certified management systems for all its activities. INOVIM holds all required certificates.
Our services and products are divided among three divisions: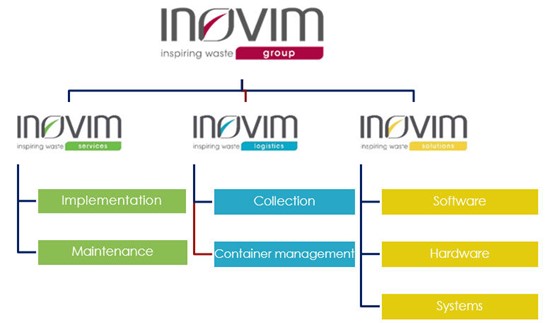 INOVIM Group NV is the owner of the following operating companies: D&C n.v. (Hofstade – Aalst), INOVIM Nederland BV (Breda - The Netherlands), Intraconteneurs s.a. (Fleron – Liege) and EcoXpress s.a. (Fleron – Liege).
Services
These cover all implementation projects and service contracts.
Some examples of implementation projects:
Distribution of new bin(s) / container(s)

Surveys to establish which volume residents need and, subsequently, distribution of the requested containers

Replacement of old bins by new ones

Chipping existing bins

Adjusting existing bins to new waste fraction

…
More information on our implementation projects can be found on this page.
Some examples of service contracts:
Administrative management: contact centre for contacts with residents, scheduling of actions, preparation of address stickers, monitoring of ongoing actions, reporting... The practical implementation of the actions on the ground is carried out by the client itself.

Full-service management: same as administrative management but we are also responsible for the practical implementation in the field, stock management included.

Light: we provide clients with one or more exports so as to enable them to carry out invoicing themselves

Extra: we also draw up and mail invoices, follow up payments, mail reminders and keep up a blacklist/whitelist, as the case may be.
More information on our service contracts can be found on this page.
Thanks to our experience and qualified personnel, we are able to assist you with all the necessary aid and  expertise for your DIFTAR or Pay-as-you-throw invoicing, be it according to the "pre-invoicing" or "post-invoicing" principle. More information on our invoicing services can be found on this page.
Logistics
These cover all logistics activities for collecting non-hazardous waste and bin management.
Solutions
These include the design and development of software, hardware and complete turnkey waste collection systems.
We offer, among others, state-of-the-art container management software for managing all your two-wheel and four-wheel containers, underground and above-ground collective waste containers, access cards, emptied volumes, malfunctions, complaints...
We also offer appropriate hardware products to support your projects with suitable resources. This includes chips, access cards as badge or key ring, access control systems for installing on collective containers, a bin identification system for installing on your collecting vehicles...
Our turnkey waste collection systems are delivered to you as complete and fully operational, ready-to-use solutions that perform way better than other waste collection systems.
Key figures
Number of employees: 

65



Number of operational vehicles:

38

Number of distributed containers: more than

8 million

Number of implementation project realised in 2018: 

27



Number of residents that are managed by our software CI-Web:

12 million